New Jersey Restaurant Coupons – NJ Dining Deals in Your Area
If you want to enjoy your dinner while making the most of your hard earned money then you owe it to your self to check out some of the incredible restaurant coupons NJ eateries have to offer. Saving money and eating out — two things that most people love but rarely get to do at the same time. But when these two are combined, oh the pleasure it brings and one way of the best ways to save money while eating out is using restaurant coupons. NJ restaurant discounts and printable coupons are traditionally distributed in few ways: they can be delivered directly to our mailboxes, cut out from newspapers and/or magazines, or given as complementary fliers. But now days, thanks to the internet, you can now get access to restaurant coupons anytime without leaving the comfort of your home.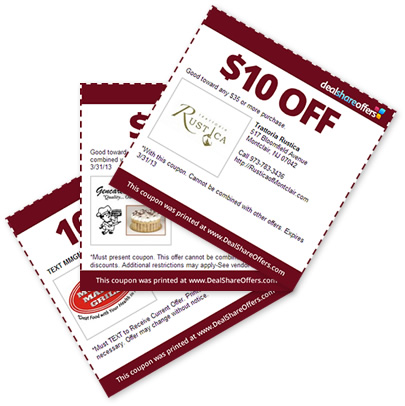 There are a few websites that offer access to printable restaurant coupons in NJ but none of them quite like our very own DealShareOffers.com. Here you'll find a wide variety of printable coupons that you can access and print anytime of the day anywhere you are for no matter what your taste buds desire. Here are just a few of out most popular New Jersey restaurant coupon offers:
Anthony's Cheesecake
Looking for something sweet? Well ts even sweeter when you can save $5.00 off any purchases worth $35.00 or more with this Anthony's Cheesecake coupon. Anthony's Cheesecakes is a good place to enjoy sweet desserts and treats. Aside from their household pastries, they also offer breakfast, lunch, and specials at very reasonable prices. They are open Mondays to Saturdays from seven in the morning to four in the afternoon. You can check their menu and other product and service offerings on their website.
Victorio's Italian Restaurant and Pizzeria
To save while you savoir a taste of the old country print this Victorio's coupon that offers $5.00 off from DealShareOffers .com when you purchase of $30.00 or more at Victorio's Italian Restaurant and Pizzeria. They offer authentic Italian dishes from breakfast, lunch, daily specials, take out, catering, and party. You can visit their site to check on their menu and other services offered.
Trattoria Rustica
If your in the mood for fine dining be sure to check out Trattoria Rustica's world class dinner menu. They are open from four in the afternoon to nine thirty in the evening depending on the day of your visit offering an amazing classic Italian spread. With this Trattoria Rustica printable coupon, you can get a $10.00 off for $30.00 or more worth or purchase. To see their menu, determine their hours of operation, and learn more about the product and services they offer, you can visit their website from the coupon's page.
Just Sandwiches
Contrary to their name, Just Sandwiches also offers wraps, salads, and platters on top of their state-wide known sandwiches. They also offer catering services. With DealShareOffers, you can get a two dollars off any large sandwich with this printable Just Sandwiches coupon. Visit their website now to check their wide variety of sandwiches and other products.
Muscle Maker Grill
Muscle Maker Grill offers its patrons the healthy alternative to fast food. From wraps, sandwiches, pasta, soup, chicken, and the likes, they have a treat for you. You can enjoy a 10 percent off from your meal's cost via printable coupon or text message generated code coupon from DealShareOffers. Simply text MMGM to 55469 to receive your discount confirmation. Visit their website to check their wide array of healthy products and the nutrition you can benefit from, along with the other services they offer. Click on the following link to get your 10% off Muscle Maker Grill coupon.
Super Scoop Ice Cream Parlor
Other than ice creams, Super Scoop Ice Cream Parlor offers sundaes, yogurts, shakes and smoothies, and coffee and cupcakes. Their flavors range from fruits to vanilla, chocolate, peanut butter, coffee, and pastry-based ones. With this Deal Share Offers Super Scoop coupon, you can enjoy these treats with $5 off on purchases worth $20.00 and up. To see their exact listing or products and flavors, you can visit their site from the coupon page.
RAZZ Berry Swirl Shop
Razz Berry Swirl Shop offers delicious frozen yogurts, and with our RAZZ Berry Swirl printable coupon you can get from DealShareOffers, you can enjoy a dollar off for every $4.00 and up purchase. You can visit their shop at 197 Bellevue Avenue, Upper Montclair, NJ.
We Knead the Dough
We Knead the Dough offers great, delicious, and healthy cookies and other confections. You can save with a $5 discount on a $25.00 or more purchase of personalized cookies using this We Knead the Dough printable coupon only available on our website. You can visit their website to learn more about their products and services by clicking on the website link on the coupon page.
Gencarelli's Bakery
Gencarelli's is a traditional Italian bakery that offers a variety delicious and amazing choices of bread, wedding cakes, cookies, pastries, and specialty and holiday items. With this Gencarelli's Bakery coupon you can enjoy a $5 dollar discount on purchases of $25.00 or more. To learn more about their products and other services offered, you can visit their website from the link on their coupon page.
These are just some of the food and restaurant coupons in NJ that you can use to save money and enjoy delicious food and treats at the same time. Be sure to bookmark our site and come back for more delectable deals at the home of discounts in New Jersey, DealShareOffers.com.